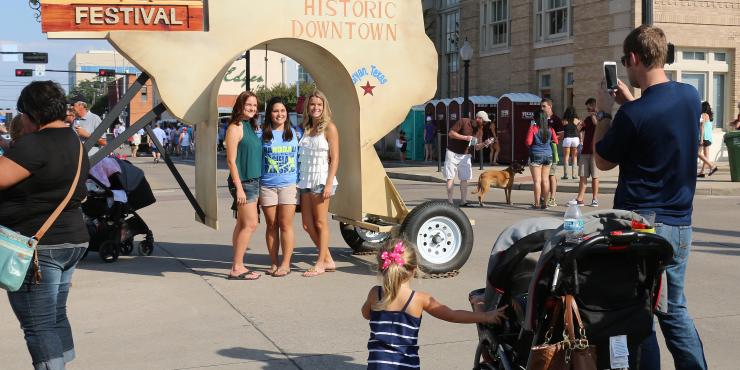 This year, the Texas Reds Steak and Grape Festival is back for its 10th anniversary! The festival is set for September 23-25, 2016 in Historic Downtown Bryan, Texas. Wine, beer and food lovers alike will be in heaven throughout the weekend with tons of ways to partake in the festivities, but if you still need convincing we're giving you 10 reasons to get your tickets right now!
There's going to be over 20 Texas wineries


Did you know that Texas is the fifth-largest producer of grapes and wine in the country? Representatives from over 20 Texas wineries will be on site Saturday and Sunday offering samples of the best in the state. Don't miss out on the exclusive Texas Reds wine from Messina Hof while you're in town!

The Entertainment lineup is as prime as the beef!


Live music is a staple at any festival, but Texas Reds is taking it to the next level with four different stages and over 40 acts slated for 2016. Festival favorite Ray Wylie Hubbard will be returning for a performance on Saturday night and Grammy winner Rodney Crowell will grace the stage on Sunday afternoon. Other artists include local favorites The Docs, The Texas Twisters, The Nightowls, Joey McGee and more!

Art, art and more art

The best vendors and artists in the state of Texas will set up shop in the heart of Texas Reds festival, offering everything from pottery to jewelry, wine accessories and more over the weekend.

The family will LOVE it!


Bounce houses, arts and crafts, and Paw Paws party train! Bring the kiddos out for an entire weekend of family fun and festival goodies! $15 gets kids unlimited fun in the Texas Reds Festival Kids Zone! There's also a grape stomping competition

It's festival foodie heaven


This year, Texas Reds is expanding its steak offerings with the Farm-To-Table Texas Dinner, VIP Kick-off Party, Saturday Night Steak Dinner, and the Steak and Egg Brunch on Sunday! Get your fix of Texas steak at one of these events or you can partake in some classic festival food, or stop in at one of the local restaurants in Downtown Bryan for a special Texas Reds menu!

Train Rides

Presenting Sponsor Union Pacific has partnered with the Downtown Bryan Association this year to bring its Heritage Train for the festival! The train will run throughout the event, giving hourlong rides outside of Downtown Bryan and back.

Experience Historic Downtown Bryan


While you're taking in Texas Wine, Beer, Steak and tons of festival fun, take a second to stop in some of the local shops and restaurants in the area. Shops include boutique clothing stores, antiques, furniture stores and art galleries for all tastes.

It's Hoppin'

Last year over 15 Texas breweries were in attendance at the festival with samples of some of the greatest brews in the state! This year, expect even more craft beer and tastier hops!

It's the 10th Anniversary and things are better than ever

Like wine, festivals only get better with age. The Texas Reds Steak and Grape Festival is turning 10 this year, so don't miss the celebration!

10% off tickets before September 10th!

As if we need to give you any more reason to get your tickets right now, you can get 10% off your Texas Reds Steak and Grape Festival passes by using the code 10UNTIL10 at checkout! Snag your tickets now at texasredsfestival.com!