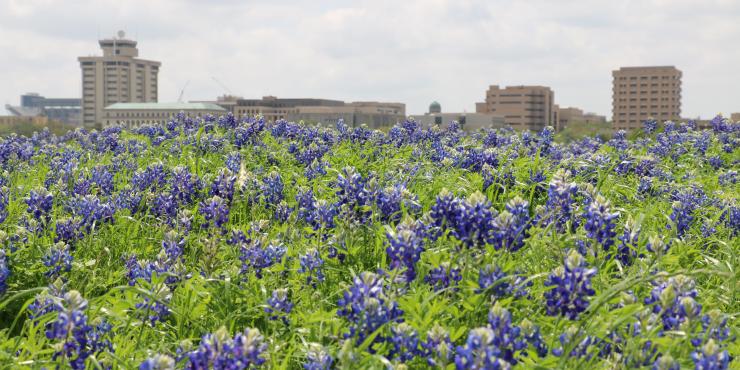 They're in full bloom across central Texas, and social media is full of new profile images of Texans posing with them.
So the traveler lucky enough to make a trip through parts of Texas near Bryan-College Station between April and May might wonder: what's so special about the bluebonnet? And why do some locals say can't you pick them?
Bluebonnets are up there as one of the most recognizable and iconic pieces of what defines Texas, right along side the cowboy hat and the Alamo. And rightly so – bluebonnets only grow naturally in central and southern parts of Texas.
Texans are so infatuated with the bluebonnet that hybrids have even been created, such as the maroon-bonnet seen here on Texas A&M's campus.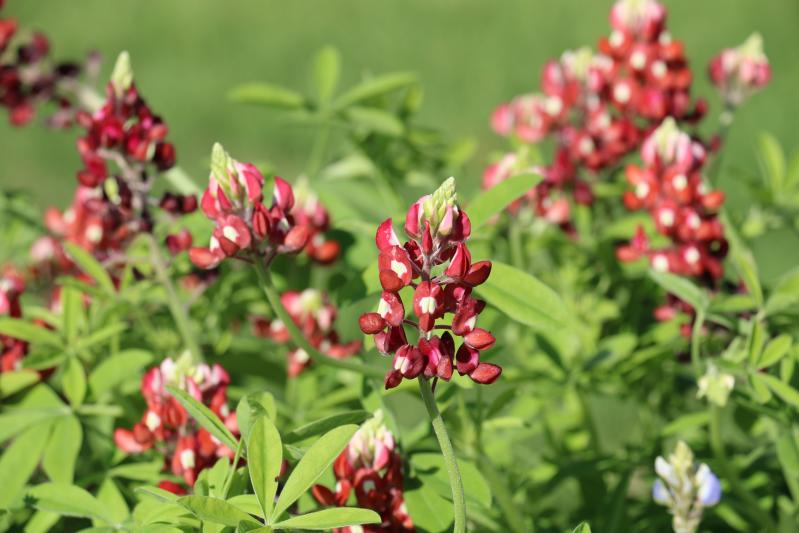 So for those wanting to snap a few pictures, here are a few tips and facts we gathered on bluebonnets:
1) It's not illegal to pick bluebonnets. That's right – if you're a Texan reading that sentence, you may be confused. But despite old Texas lore, it is perfectly legal to pick bluebonnets, with a few exceptions. First, don't pick them if they are on private property. It can be considered trespassing or destruction of private property if the owner isn't so pleased about you trampling through their yard. Second, you can't pick them if the state planted them. Usually the state will put out signs if they are off limits (ex: the State Capitol grounds), but for bluebonnets growing naturally on the side of the road, there is no law against gathering a few and taking them home.
2) The state of Texas highly advises against taking pictures in the bluebonnets on the side of major highways. In fact, this is where you can earn yourself a ticket trying to take pictures; offenses could include not signaling to pull to a shoulder, not parking fully on a shoulder and out of lanes of traffic, or running across lanes of major traffic, along with the mentioned trespassing if it is private property. "There are not any laws prohibiting people from stopping on a shoulder to take pictures," said Bob Colwell, Public Information Officer for TxDOT. "But safety is our top priority, and that's why we discourage people from pulling over and getting out of their cars. A few recommendations include only stopping on a shoulder in a safe location. Drivers should park in locations where they can fully pull off the roadway and where approaching cars have good sight distance of the parked vehicle. Additionally, if passengers get out of the vehicle, they must be in a location where they can stay well away from the edge of the roadway." In other words, if you don't think it's safe, it's probably not!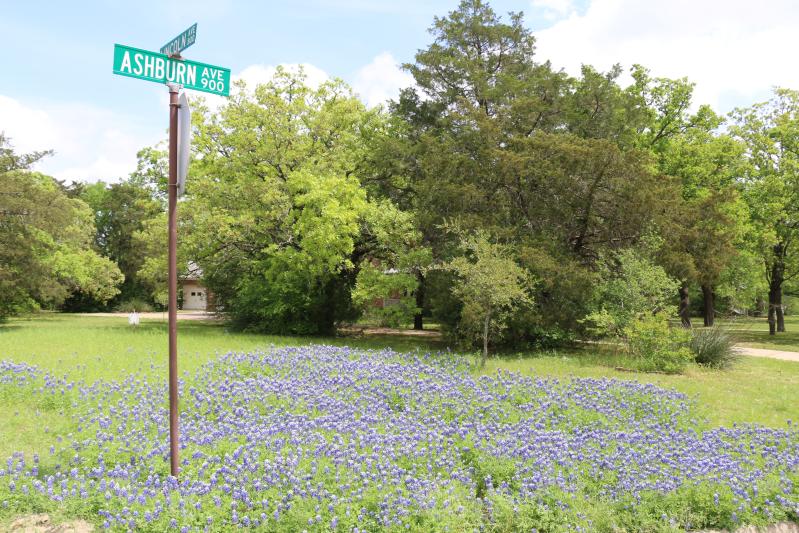 (This patch of bluebonnets may look pretty, but the homeowner may not want strangers on their property…)
3) Did you know the state flower title was almost given to cotton or cactus before bluebonnets were selected in 1901? There would assuredly be significantly fewer Facebook pictures sitting among the cactus patches if that had been passed by the legislature. (In 1971, Texas legislature also passed a resolution to cover all species of bluebonnets as the state flower – so even the maroon ones are still the state flower!)
4) If you want bluebonnets to pop up in your yard, you need to plant seeds in September or October. This is because heat is needed to germinate the seed, but cool weather is needed to develop the root system for the flower. Bluebonnets also prefer sunny elements – so if you seed under a giant oak tree, your chances of a massive patch growing are small.
5) For safest picture taking and admiring, we recommend places like Texas A&M's campus that has many designated viewing places, near Veteran's Park in College Station, or even spots around Messina Hof Winery in Bryan. Or take a trip to Independence, Texas which is only about a 30-minute drive from Bryan-College Station. In Independence you'll find Old Baylor Park (the site of the first Baylor University), a public park where the bluebonnets typically take over entire stretches of the fields. A further drive to Washington on the Brazos near Brenham (about an hour drive) also is a great and safe public viewing area where you can also see where "Texas began" (the Texas declaration of Independence was signed here).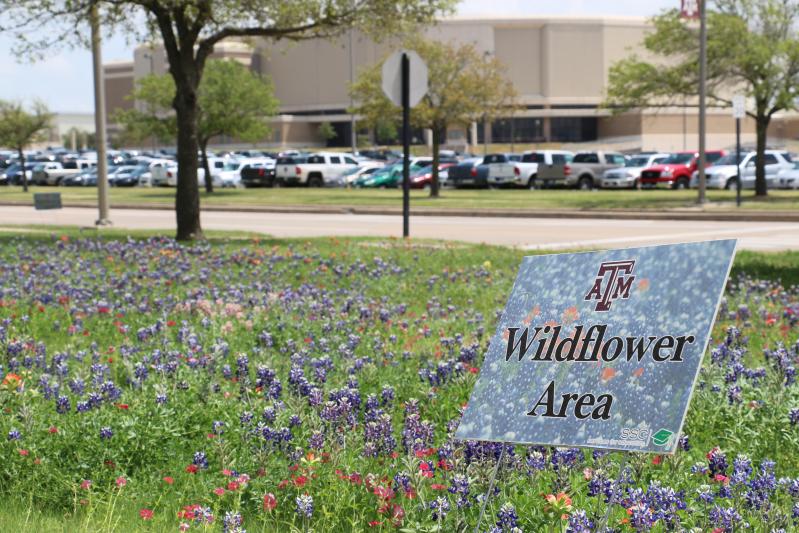 (A safe place on A&M's campus near Reed Arena to take pictures with the bluebonnets)
6) Other quick picture tips: Bringing a small blanket or towel is useful, especially if you want the kiddos to sit down among the bluebonnets. Wearing closed-toe shoes or long pants is advised as typically you'll have to walk through high grass to get to a good patch (and if it just rained, expect muddy conditions). Try to only walk on trampled parts where others have walked, and try not to pick giant patches of the bluebonnets so others can take great pictures.
Most importantly, enjoy them while they're here!  Depending on weather conditions, the bluebonnets will start to disappear as early as the first week of May.  And if you're contemplating a trip to Bryan-College Station in April or May, be sure to bring your camera and tripod – you won't be disappointed by the beautiful display that you can only see in Texas.
---
Blog by Jordan Meserole, who works for the CVB and still is terrified to pick bluebonnets for fear of imprisonment. (The BCS CVB publishes blogs from time to time. The content is considered original and is not paid advertising. While posted by the BCS CVB, the writer's views or opinions do not necessarily reflect the opinions or views of the BCS CVB as an organization.)