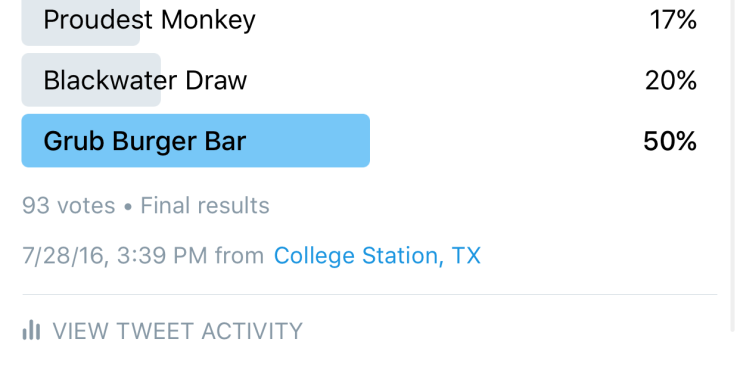 Hamburgers are a staple of American food. They come in all shapes and sizes, with all types of toppings, condiments, and sauces. Hundreds of restaurants throughout the area offer some version of a hamburger on their menu, and we set out to find the best burger in town!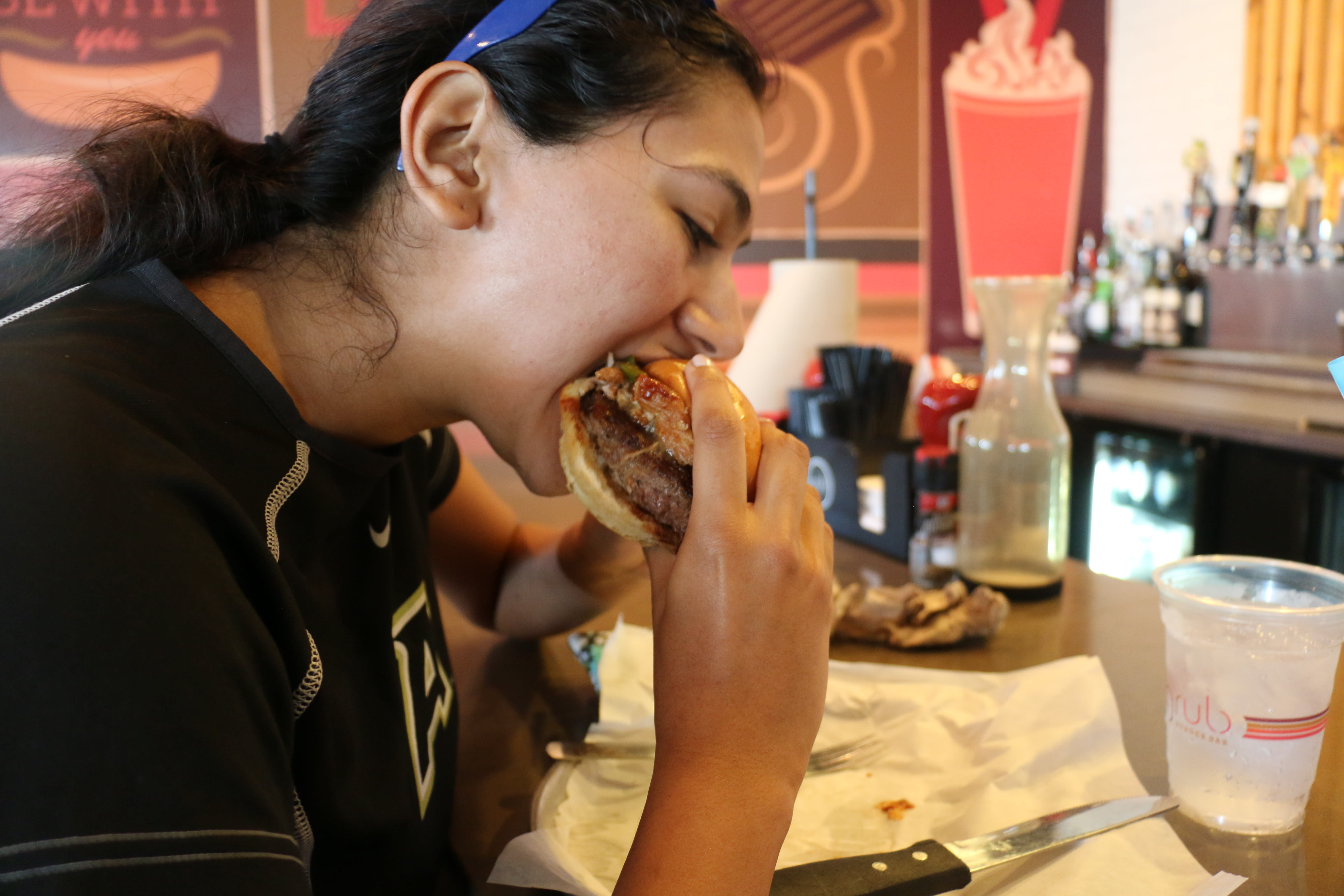 Because the burgers differ so much across restaurants, we decided to find the best traditional hamburger. We wanted to have a comparable sample of plain burgers with the standard meat, toppings, buns, and sauces.
We began by sending out a survey to everyone in the office asking them to select their five favorite burger joints in Bryan College Station from a list of 15 places. The survey also included an open response section to write in an additional burger place. We compiled the responses and narrowed that list down to the top 10 places in Bryan College Station. We then decided to conduct a completely blind taste test of the top 10 places. We followed careful procedures to ensure that high quality and unbiased results were obtained. First, the restaurants were not informed ahead of time that they were being sampled, or that we were writing this blog. This was to make certain that a "special" batch was not made just for the judges.
Second, the burgers were purchased around the same time every day we did a taste testing (shortly after lunch). Our goal here was to get a consistent and comparable sample across restaurants. Only one person in the office was responsible for purchasing the burgers. They were tasked with cutting the burgers into quarter-sized portions on a plain plate, while hiding any bags or receipts from the judges. The knowledge this person possessed about where the burger came from meant they were ineligible to participate in the testing.
We sampled burgers over the span of a two-week period. The judges – which had to be a minimum of 8 people per sample (generally between 8 and 12 judges) – were given a universal score sheet used for every burger sampled. The scoring sheet consisted of seven, 5-point Likert scale questions, ranging from very favorable on one end of the spectrum, to very unfavorable on the other end. We asked judges to rank the overall taste of their first bite, then their second bite. Next, we asked them to rate the quality of the meat, their satisfaction with the taste of the bun, the flavor of the condiments, and the overall freshness of the burger. Finally, we included an open response section for judges to write additional comments. Throughout the tasting process, the judges were not informed of the burger they were sampling.
After all of the burgers had been sampled, we tallied up the responses from our scoring sheets. The scores from each of the seven questions were taken into account and added up across respondents. A cumulative average was computed, and the burger places were placed in rank order. We then chose to expand our reach to gather the input and opinions of local residents about the top burger places in Bryan-College Station. We posted a Twitter poll for people to choose their favorite burger place from the top 4 places.
Every restaurant in Aggieland makes our town unique. We won't be publishing the scores or the final ranking order of our restaurant list because we don't want to alter peoples' current perceptions of local restaurants. A burger that ranked low on our judges' list might rank higher on another person's list. We are going to leave it up to visitors and residents to decide what their favorite burger is!
We used the votes from our Twitter poll, and the averages from our blind taste test to arrive at our top three burgers in town: (in no particular order)
I traveled to these places to film interviews with the head chef and general manager at each establishment. I asked them questions like: Why do Texans love burgers so much? What makes this establishment so special and so unique? What is your best selling burger here? How many burgers do you go through in a day? While at these restaurants, I tried their best selling burgers and they were delicious!
I edited a quick video of my experiences at the best burger places around. Check out the video here:
Happy Burger Eating!
-Keefer