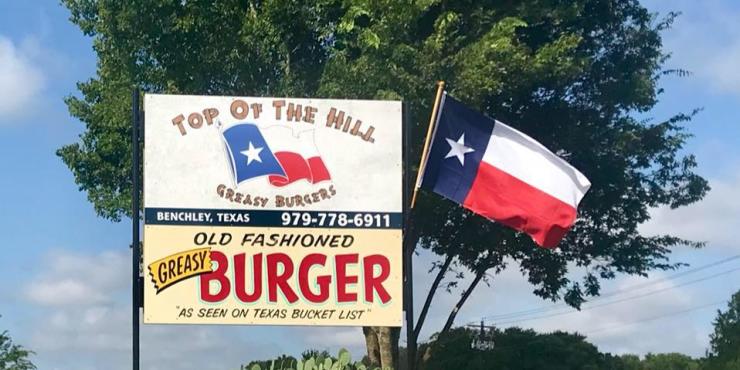 National Cheeseburger Day is here, and it's the perfect excuse we've all been waiting for to go out and indulge in a delicious cheeseburger! In honor of this holiday, we're celebrating the best way we know how: rounding up 5 local burger joints where you can spend this day in BCSTX!
This country music playing, pitcher pouring Aggieland tradition is the oldest bar on Northgate and has been serving up delicious burgers for over 45 years. After that long, they probably have it perfected. And just in case the Freddy Burger isn't enough, add a side of Tijuana Fries for the perfect compliment to that burger and more cheesy goodness.
Proudest Monkey
Spend the day in the heart of Downtown Bryan and step into this modern restaurant boasting a funky atmosphere. With a menu full of burgers as unique as they get, you'll be sure to find something to satisfy a craving. Bite into the Willie Norris to get the full, classic cheeseburger experience- and don't forget the monkey sauce!
Top of the Hill
Check something off the Texas Bucket List and celebrate National Cheeseburger Day all in one trip? Sounds like a plan to us! This small hamburger joint sits on top of a hill off of Old San Antonio Road and is known for its old fashioned greasy burgers. In honor of National cheeseburger Day give "The 4 Cheeseburger", a burger stacked high with american cheese, cheddar cheese, pepper jack cheese, and a shredded colby blend, a try!
If you're looking to satisfy your sweet tooth while enjoying your cheeseburger stop by this College Station native restaurant that has now spread throughout the US. With 9 different milkshakes on the menu (that can also be boozy) you'll be sure to enjoy this meal. If you're feeling extra cheesy don't miss out on the "Mac 'N' Cheese" Burger, topped with not only mac 'n' cheese but also cheese sauce and bacon- count us in!
In a pinch for time? Don't worry, Harvey Washbangers is the ultimate restaurant that allows you to multitask! With a laundromat inside the restaurant you are able to get in a load of laundry while celebrating this holiday at the same time! Cheeseburgers stacked high with toppings, Texas craft beers, and clean laundry; seems like a no-brainer to us!