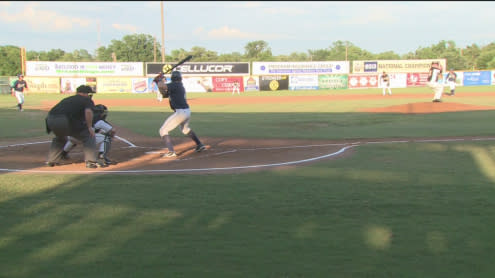 By Kim Fox
Every season we make it a priority to attend at least one Bombers baseball game.  Neither my husband nor I are what I would call baseball fans, but we are sports fans and love the experience of watching sporting events live.  The summer lull of A&M sports is easily filled with a trip to Cellucor Field to watch the hot bats of the Bombers.  The Bombers play in the summer Texas Collegiate League (TCL) and were the 2013 champions.  The facility and the atmosphere are stuff of movie stereotypes and we love it!  High energy announcers, music pumping from the speakers and of course a mascot with just enough taunting of the visiting team. 
In addition to the baseball fun, there are between-inning antics.  Kids and adults are selected to play on-field games to keep the excitement up.  Kaboom, the mascot, may also get involved and regularly walks through the stands to make sure the fans are "in the game". Don't be surprised to see Kaboom around town either.  He and other Bomber players make appearances at community events and regularly give their time to visit local schools, and camps through the summer.
Make sure to come hungry because while you and your family are at Cellucor Field, you can enjoy a full menu snack bar.  Of course, they have the regular ballpark food, but have a new item on their menu this year.  Although I didn't see anyone take on the challenge of the Great Bombino, what diehard baseball fan wouldn't want to take on a hamburger bun and patty topped with a hot dog, chopped BBQ beef and nacho cheese?
The Bombers know how to be great hosts as well.  Their staff are all very friendly and work hard to make sure guests of all ages have an enjoyable experience.  In addition to baseball fun, the little ones can take advantage of free inflatables before and during the games.  On Fridays in June, a free fireworks display followed every game as well.  These are always top-notch productions.
Ticket prices start at only $5, but you can regularly find discount ticket packages online.  I think what I like best is the community connections.  We meet friends at the game, hang out and have a good time as a family. The Bombers have worked hard to be a part of the Brazos Valley and it has really paid off for them.    The rest of their schedule can be found at http://www.bvbombers.com/schedule/ and make sure to follow them on Facebook and Twitter for more details.
---
Kim Fox is a guest blogger for the CVB who works in the Office of the Provost for a little university named Texas A&M and fully participates in the wave and 7th inning stretch.
(The BCS CVB accepts guest blogs from time to time. The content is considered original, and is not paid advertising. While posted by the BCS CVB, the writer's views do not necessarily reflect the opinions or views of the BCS CVB.)