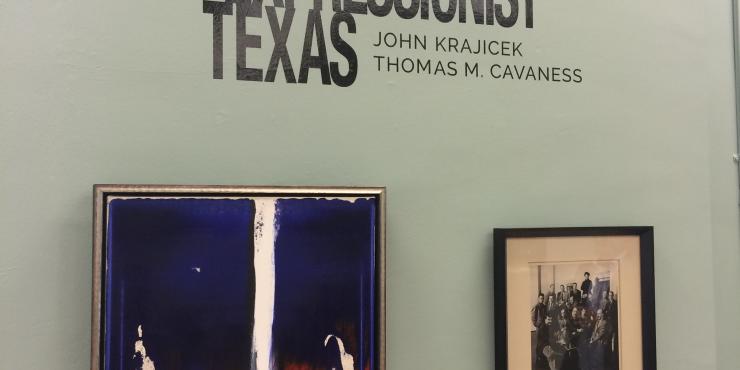 I enjoy painting and I love all things artsy and creative. This passion for art drove me to take a recent trip down to the SEAD Gallery in Downtown Bryan to check out the "Abstract Expressionist Texas" exhibit. This exhibit features two Bryan College Station local artists; John Krajicek and Thomas Cavaness. The exhibit opened on June 16 and will stay in the gallery until August 13.
I invited both artists to walk me through the exhibit while we discussed their motivation and inspiration to create the wonderful art that they have. Cavaness also has artwork up at the Village Café in Downtown Bryan. He estimates that he has at least 65 pieces displayed between the exhibits at both locations. One of the biggest things that inspires Cavaness is an urge to do something creative. "Sometimes the urge is so strong that I just need to do something hands on. It isn't enough to just be around creative people or things."
Perhaps one of the most insightful thoughts Cavaness shared was his favorite thing about art: "When you create art, you have the ability to leave a piece of you with someone else. It is fascinating that your art can live on beyond you or your lifetime." It was also interesting to hear from Cavaness that he notices small details like people using certain tools, or certain textures on walls, and color schemes on billboards. "These visual aspects have an effect on me as an artist," Cavaness said.
Krajicek has a love for the abstract expressionist movement. Several of his pieces in the exhibit are a tribute of sorts to famous abstract expressionist painter Jackson Pollock. Krajicek views artist Gerhard Richter as one of the most successful abstract expressionist painters. He is heavily influenced by Richter's mystical, almost monochromatic paintings.
Krajicek revealed that he views the process of creating art like that of doing a battle with the canvas. "The artist struggles to win out and finalize something creative by interacting with and responding to what is on the canvas." Krajicek feels that as an artist, you must detach yourself from the outcome and the end result of a painting to truly succeed. "When you get into the right frame of mind, you become less critical of yourself and feel freer to create."
Krajicek said the hardest part about abstract painting is knowing when you are done adding paint, and he makes a genuine effort to not paint anything realistic. "I prefer to paint something new and unseen; not a representational image of something that already exists in the world."
Krajicek loves utilizing the technique of "action painting" in his artwork. Action painting is a style of abstract painting where paint is randomly splashed, poured, or dripped onto the canvas. "The canvas is laid out on the floor instead of up on an easel, and the artist walks around the canvas throwing paint onto it." The final product results in fun and fascinating patterns.
Krajicek really likes the way paint looks wet versus dry, so he experimented with ways to capture and freeze the wet look. He tried spraying glass varnish on the paint while it was wet. "Typically artists use glass varnish as an after effect to preserve the painting, not as an active part of the medium. Other artists and critics said I couldn't spray the wet paint with varnish, but I did it anyway." One of the things that I find most unique about the wet varnish technique is that it creates a different look every time.
Krajicek is also a talented musician. Music has always been a part of his life, and he said he actually feels more accomplished as a musician. "Music always comes first," Krajicek said. "Music encompasses more of a communal aspect. You are out and about more, and you have more opportunities to collaborate with band members and other musicians. Painting is a solitary enterprise, while in music you can sell CDs, play live music, and attend concerts. Similarly, music is more portable because it doesn't just have to sit in one space like art hung on a wall."
Leavenworth will be having a CD release party on September 24 at the Grand Stafford Theater. Krajicek relates the songwriting process to art in that both stem from his inner drive to create. "Art and music share similarities in the creative flow of ideas in a free space. They involve taking a force within yourself and turning it into a product. Painting and music are both forms of expression, creation, and mystery."
Make sure you take some time to swing by the SEAD Gallery to see this awesome exhibit!
-Keefer