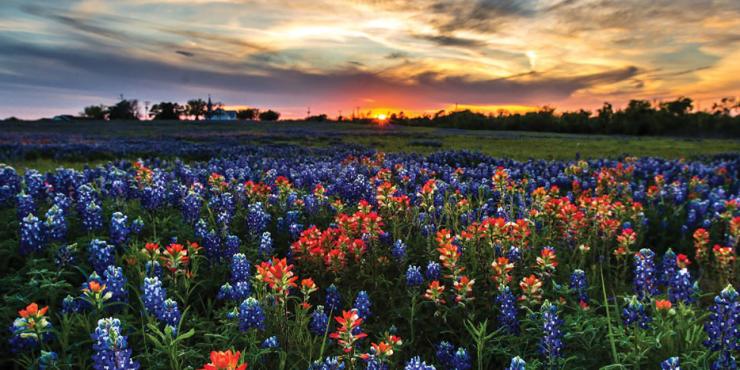 A blog dedicated to all of the wonderfully good things that happened this past week, because let's face it - we still have so much to celebrate, despite the unique circumstances we've currently found ourselves in!
Aggies Helping Aggies
Two Valencia Hotel Group properties in Bryan College Station, Texas, The George Hotel and Cavalry Court, have partnered with a local meal prep service called "Dorm Dish" to help Texas A&M students who are in need of a meal. In this partnership with the two Valencia Hotel Group properties, Dorm Dish agreed to provide microwavable dinners to the students, with Valencia Group's catering service providing lunch. Funding for the meals is provided solely through donations via GoFundMe. The program currently sits $1,300 away from being able to feed all 30 students on their list through the rest of the semester (April 28th). The idea for the program is similar to that of "sponsoring an Aggie student," and the organizers have hopes that it will continue long after COVID-19 ends. Austin Fanning, founder of Dorm Dish and organizer of the Feed Maroon Program, said "to know that you are helping put food on the table for a student in need until they can get back to work or go back home to their families is such a great feeling. This entire program is a joint community effort. " To read the full story, click here. 
The Heroes We Never Knew We Needed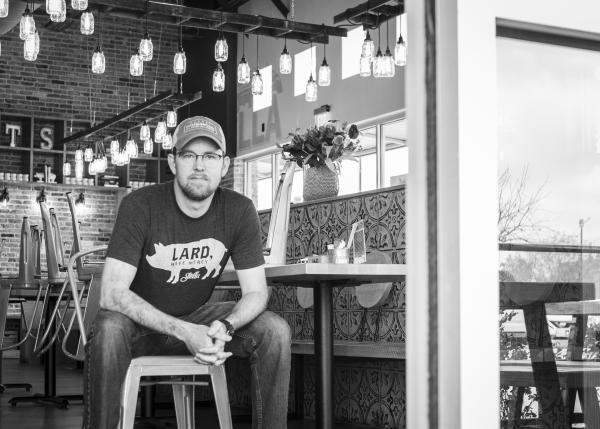 Photo courtesy of Ashley Siegert 
Ashley Siegert, a photographer in Bryan College Station, saw the desperation that hit our community as a result of COVID-19. But what she also saw was the innumerable amount of restauranteurs in the community who, within the blink of an eye, were transitioning their storefronts to be able to better provide for all of us during these troubling times. Whether it was adding a delivery option to their current services, providing to-go options, or doing curbside pick-up, these restauranteurs made sure their customers were taken care of, and she was there to capture it. To read her blog and  view the gallery of pictures, click here. 
Buy One, Send One
Amidst the chaos, a local restaurant in Bryan College Station, Mess Waffles, saw the imperative need to provide for those who are on the frontlines of keeping our community safe. To lend a helping hand to these medical professionals and first responders, Mess Waffles put together the "Buy One, Send One" campaign that allows community members to purchase a meal using the promo code "SendLove" and have one sent to local first-responders. What better way to pay it forward than helping to put food on the table for people who dedicate their time day in and day out to keeping our community safe. Want to take it a step further? If you personally know a first-responder in our community, fill out this form to nominate your local hero and have breakfast or lunch sent to their clinic, department, or fire station.
Comfort in the Chaos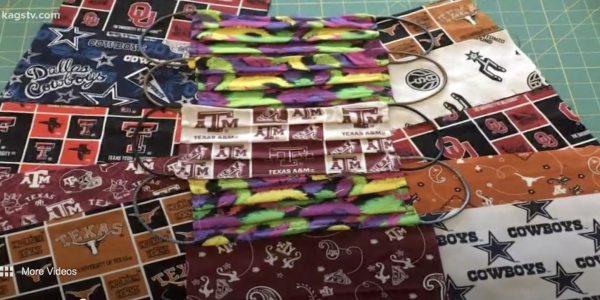 Photo courtesy of KAGS
An Aggie family in South Texas knew they had a knack for embroidery, but they didn't know the impact it would have on so many people during a time like this. What started as a small donation to a family member who works in the medical field has soon escalated into the distribution of over 200 hand-made masks to those working on the frontlines all across the state. 9 by 6 inches at a time, this family has impacted more lives than they can count, and have brought smiles to the faces of many, even when it seems there is little to smile about. To read the full story, click here. 
Dual-Purpose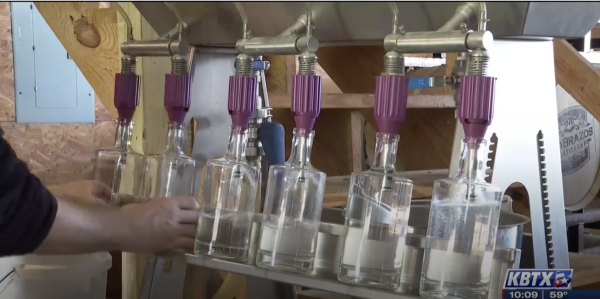 Photo courtesy of KBTX
The Rio Brazos Distillery in College Station is making do with what they have to produce hand sanitizer - alcohol. On Tuesday of this week, the distillery began working on filling 500 bottles of sanitizer that will be delivered to first responders in the area. To view the full story, click here. 
A Community-Wide Effort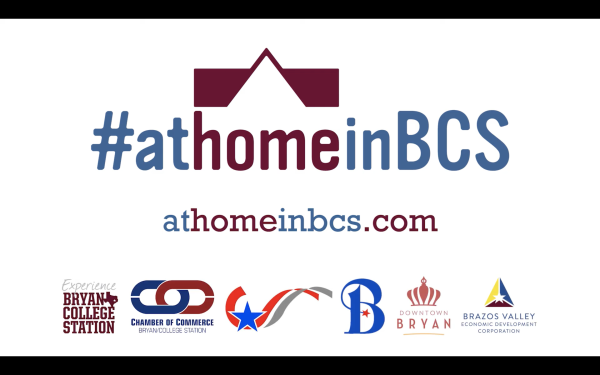 Organizations in Bryan College Station have united together to serve our community through a plethora of resources. Experience Bryan College Station, the Cities of Bryan and College Station, Brazos Valley EDC, Chamber of Commerce, and the Downtown Bryan Association, have launched the #athomeinBCS campaign to help people feel welcome and at home during these unique times. This campaign focuses on providing information about our local restaurants, shops, and attractions, and allows you to experience them from the comfort of your own home. You know what they say, when times are tough, the tough get going, and that's just what these organizations have done. Visit athomeinbcs.com to find updated lists and information.