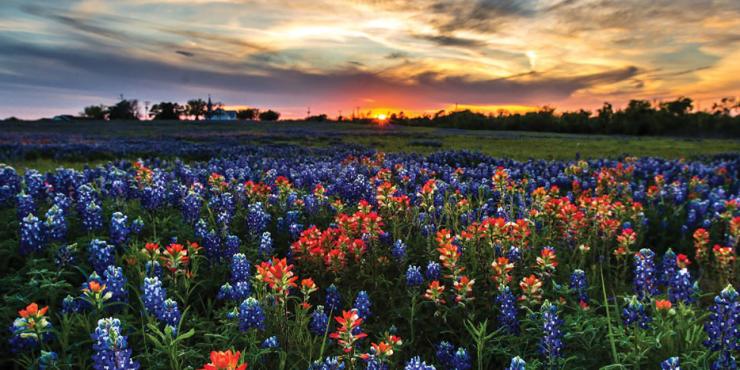 A blog dedicated to all of the wonderfully good things that happened this past week, because let's face it - we still have so much to celebrate, despite the unique circumstances we've currently found ourselves in!
A resounding "thank you"
In a collaborative effort, Experience Bryan College Station, the Cities of Bryan and College Station, Brazos Valley Economic Development, the Bryan College Station Chamber of Commerce, and Historic Downtown Bryan, featured local community members expressing their thanks and gratitude to our heroes and frontline workers who have worked relentlessly to keep all of us safe and healthy. The work these brave men and women have done and continue to do for all of us each day does not go unnoticed. From the bottom of our hearts - THANK YOU!
Adopt a senior

A Facebook group called "Adopt a High School Senior 2020, Bryan-College Station, TX Edition" has been created in an effort to support local seniors in Bryan College Station who's senior year has been affected by COVID-19. High school seniors are encouraged to participate by uploading pictures of themselves and including a list of their hobbies, talents, and plans after high school. Members of the group can then adopt the senior and provide them with a gift and words of encouragement. Interested in adopting a senior? Click here to find the Facebook group.
A labor of love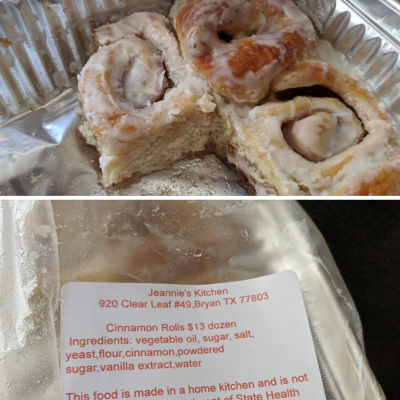 What once started out as a hobby for Bryan resident, Jean Criddle, has now turned into a full-time job. Criddle always knew she had a knack for cooking as a way to provide for her family, but she never knew that it would turn into providing for others, too. Since the creation of the Facebook page "BCS Meals and Deals," Criddle has been up to her ears making homemade cinnamon rolls for members of the Bryan College Station community. So many in fact, that she has asked that no more requests be made until the beginning of May. Acting as a one-man baking show, Criddle received requests for over 82 dozen cinnamon rolls in one day. For $13/dozen, you can get a little taste of heaven yourself... but you'll have to wait! To hear Criddle's story, click here.
Spreading cheer for all to hear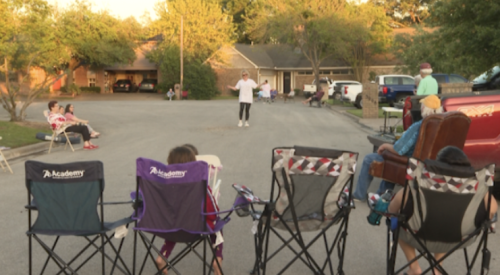 Photo courtesy of KBTX
If you've happened to pass through the 3000 block of Gleneagles Court in Bryan the past two weekends, chances are you've probably experienced a  live concert, with hit songs such as  'Take me out to the Ballgame', and 'You are my Sunshine'. To lighten the mood and add some cheer into their own lives, and the lives of others, these neighbors have made an effort to sing with one another using kitchen items, such as pots, pans, and ladles, along with their own melodies and voices. Now this is a neighborhood we want to be a part of! To read the full story, click here. 
A gift that keeps on giving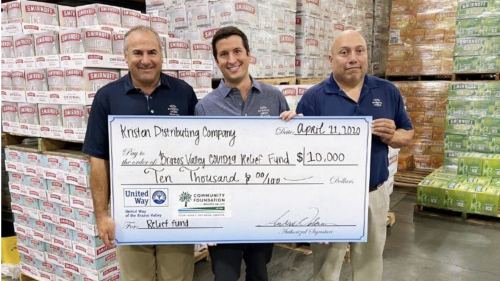 Photo courtesy of KBTX
In support of local non-profits and small businesses in the Brazos Valley, the local beverage distribution company, Kristen Distributing, has donated $10,000 to the COVID-19 Community Relief Fund. Funds such as these go towards helping non-profits provide relief for local residents, such as food, rent, and utility assistance, and also help small businesses continue to provide payroll to their employees. To read the full story, click here.