When it comes to Gameday, Aggies take two things very seriously: Texas A&M football and their favorite brunch spot. We've picked our top ten favorites in the Bryan College Station area for you to try and grub out at. Now let's get to brunching!
1. Hullaballoo Diner
When it comes to brunch spots in the BCS area, Hullaballoo is probably not only the most famous brunch spot, but probably the most fun. You'll have to wait a little while (anywhere between 45 minutes to an hour and a half) but I can assure you it is well worth it. Not to mention they have live music, board games and a full bar to keep the hunger at bay. I mean, is it even brunch without a mimosa?
Hullaballoo is not only famous for being on "Diners, Drive-Ins and Dives" but for having some really amazing food. Whether it is the giant pancakes or their Food Channel-famous French toast, you can't go wrong with Hullaballoo Diner.
Our favorite brunch dish: The French toast
Our favorite brunch booze: Sangria
Price Point: $$
Typical Wait Time: 45 minutes – 1.5 hours on game weekends
Website/Menu: https://www.tripadvisor.com/Restaurant_Review-g55649-d874898-Reviews-Hullabaloo_Diner-College_Station_Texas.html
2. Blackwater Draw
Conveniently located on Northgate, Blackwater Draw is a brunch-lover's paradise. Whether you are craving a hearty brunch like The Outlaw, which features their freshly baked buttermilk biscuits smothered in sausage gravy, or their Southern Belle  — with fruit, yogurt, granola and an egg white — that is the perfect lighter fare. Blackwater Draw also offers a full bar with brunch special drinks such as the go-to booze for any brunch-goer: the Mimosa. Or you can change it up and sip on one of their savory Micheladas that is sure to make your mouth water.
Grab your mimosa and get ready to cheer on the best University in the world.
Our favorite brunch dish?
The Sanchito: Pulled pork migas smothered in fire roasted salsa, shredded cheese w/ potatoes and tortilla strips.

Our favorite brunch booze? The Michelada

Price Point: $$

Typical Wait Time: 15 – 30 minutes

Website/Menu: http://www.blackwaterbrew.com/brunch/
3. First Watch

Focused on bringing you only the most farm-fresh brunch they can, First Watch is one of the newest brunch spots in the Bryan College Station area. Whether you prefer a booth to yourself or an inclusive community table, First Watch welcomes their customers with a light and happy atmosphere. Their brunch dishes are sure to get you salivating, whether it be a dish off of their seasonal menu or some of their Egg-sclusive dishes. Along with their amazing food, First Watch also offers freshly squeezed juices and herbal teas sure to get your vocal chords ready to scream the Aggie War Hymn.
It does not matter if you are just looking for some comfort food, or you're a health-conscious Ag, First Watch has got you covered. With dishes like their energy-inducing Power Wrap or their mouthwatering Bacado Omelet, you cannot go wrong with First Watch.
Our favorite brunch dish?
The Parma Hash: Two eggs any style atop a hash of fresh, seasoned potatoes, Italian sausage, house-roasted Crimini mushrooms, onions and tomatoes with melted Parmesan, mozzarella and fresh herbs.
Our favorite brunch drink?
Freshly squeezed orange juice  
Price Point: $$
Typical Wait Time: 30 minutes – 1 hour
Website/Menu: http://www.firstwatch.com/menu/breakfastbrunch/fresh-starts/
4. The Village

The Village is one of the local eateries nestled in the center of Downtown Bryan. With their indoor and outdoor eating spaces, you can enjoy all the beauty that Downtown Bryan has to offer while grubbing on some of the amazing, locally sourced dishes The Village has to offer. Putting a unique spin on some of your favorite brunch dishes, The Village shows you their sweet side with dishes like their Orange Oat Waffles. Looking for something a bit more savory for your brunch? The Turkey & Egg Sammy will fill you up with turkey, eggs, provolone cheese and chipotle mayo on a jalapeño cheese bun.
With colorful artwork brightening up every wall in the café, inspiration is the perfect side dish to your brunch at The Village. Their array of coffees, espressos and freshly brewed teas are sure to wake you up for even the earliest of morning games.
Our favorite brunch dish?
Turkey & Egg Sammy: Sliced turkey, eggs, provolone cheese & chipotle mayo on a jalapeno cheese bun, served with roasted rosemary potatoes or fresh fruit.
Our favorite brunch drink?
The Happy Bee: a blend of Honey, banana, cinnamon, peanut butter with 2 shots of espresso.
Price Point: $$
Typical Wait Time: 5 – 15 minutes
Website/Menu: http://www.thevillagedowntown.com/eats/our-menu/
5. Kolache Rolf's
For those Ags who struggle waking up early enough to brunch before the game, Kolache Rolf's is the perfect on-the-go brunch. From their Meat Kolaches to their Sweet and Sticky, Kolache Rolf's is always hot and fresh. Their Slovacek Sausage, Cheese & Jalapeño Kolache is sure to kick-start a fire in your mouth and in your gameday-ready soul. Not into the spicy? Kolache Rolf's Cinnamon Twist with cream cheese, caramel and pecans is sure to make your gameday a lot sweeter.
Kolache Rolf's drive through is just as quick as walking in and, after noon, everything in the shop is half off! Kolache Rolfs is completely local and ready to help feed your hunger for kolaches and Aggie football.
Our favorite brunch dish?
Slovacek Sausage, Cheese & Jalapeño Kolache
Our favorite brunch drink?
Blended Iced Coffee
Price Point: $
Typical Wait Time: 5 – 15 minutes
Website/Menu: http://kolacherolfs.com/Kolache_Rolfs_Menu.html
6. Raspas El Payasitos
Whether you want to stop by the restaurant or grab something from their food truck, Raspas El Payasitos is the place to experience an authentic Mexican breakfast. From their barbacoa tacos to their giant tortas, be ready to leave Raspas El Payasitos with leftovers after a day of watching your favorite team. Their savory breakfast tacos and real cane sugar sodas are some tastiest ways to start a long day. If it's going to be a hot day in Kyle Field, grab one of their locally famous raspas (snow cones) before heading out to tailgate. Always fresh and ready to take with you, you can rest assured that you will not be standing on the wood with an empty stomach.
Whether you're sitting down or taking it to go, this place is the savory, spicy haven for any Ag ready to hiss the other team off the field.
Our favorite brunch dish?
The Chupacabra Torta
Our favorite brunch drink?
Mango Raspa
Price Point: $
Typical Wait Time: 5 – 15 minutes
Website/Menu: https://www.yelp.com/biz_photos/raspas-el-payasito-bryan
7. Christopher's World Grille
Christopher's is the brunch spot for the Ags who love the finer things in life. With brunch only on the weekends from 11 am to 2 pm, get ready to dress to impress and enjoy a meal that you were born to enjoy. From Café Du Monde inspired beignets sure to make your sweet tooth ache to their savory Christopher's Eggs Benedict, this authentic BCS spot has the brunch you only dream about. Starting the morning at Christopher's makes your game day a little bit more luxurious.
Our favorite brunch dish?
Christopher's Eggs Benedict: Poached eggs on grilled beef tenderloin, creamed spinach and English muffin topped with béarnaise sauce
Our favorite brunch booze?
Rum Punch: Bacardi Coco, orange juice, and pineapple Juice
Price Point: $$
Typical Wait Time: 20 minutes – 1 hour (reservations are taken)
Website/Menu: http://www.christophersworldgrille.com/pdf/brunch.pdf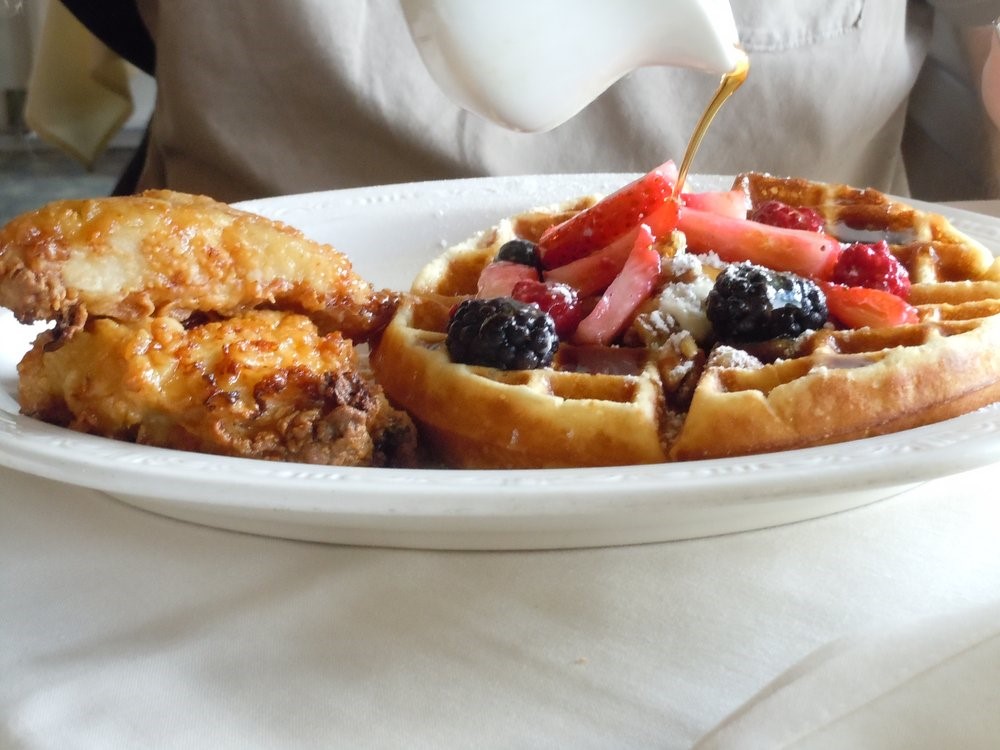 8. West End Elixir
West End Elixir is the newest member of the BCS brunch gang. Opening their doors to the avid brunch-goer just this past July, West End Elixir has a new made-from-scratch brunch that will knock your boots right off. Your sweet tooth will be aching to try their mimosas made with freshly squeezed orange juice while the shrimp and grits will have you wanting more. With only three items on the menu at the moment, what they lack in selection they make up for in flavor.
Their chorizo pizza will have you drooling all over yourself while the handmade beignets could make any New Orleans native feel like they're right back at Café Du Monde.
West End Elixir only has brunch on Sundays, so you won't be able to fuel up here before a game, but the morning after feel free to indulge in some of their great new dishes. Besides having a great new menu, West End Elixir is known for their awesome mixology and their brunch drinks do not disappoint. Peach Bellinis and mimosas are sure to help you decompress after a long weekend of cheering on the Aggies.
Our favorite brunch dish? Shrimp & Grits
Our favorite brunch drink? Peach Bellini
Price Point: $$
Typical Wait Time: 30 mins – 1 hour
Website/Menu: http://www.westendelixircompany.com/edible-cures
9. Café Eccell
Last but certainly not least, Café Eccell has everything from breakfast tacos to brunch pizza. Their classic French toast is dipped in crème brulee before being sprinkled with cinnamon and powdered sugar, while their Chorizo Migas Tacos will keep you full so that you can cheer on the Aggies all day. Café Eccell adds some uniqueness to their brunch menu with items like their Scrambler Bowl of the Week and their Hawaiian Brunch Pizza. In addition to their awesome menu, Café Eccell has a Build Your Own Mimosa and Bloody Mary Bar ready to quench your thirst.
Brunch for Aggies is the soul food of game day and at Café Eccell, you can get a taste of anything. Whether you need a couple of breakfast tacos to get you started before your long day ahead or a good glass of OJ, brunch at Café Eccell will have you ready to sing the War Hymn as loud as you can.
Our favorite brunch dish? Hawaiian Brunch Pizza
Our favorite brunch drink? The Mimosa
Price Point: $$
Typical Wait Time: 15 – 30 mins
Website/Menu: http://cafeeccellbryantx.com/wp-content/uploads/2015/05/Brunch-menu.pdf
We hope you're feeling ready for a great gameday brunch with good friends!
Gig 'Em!
-Victoria