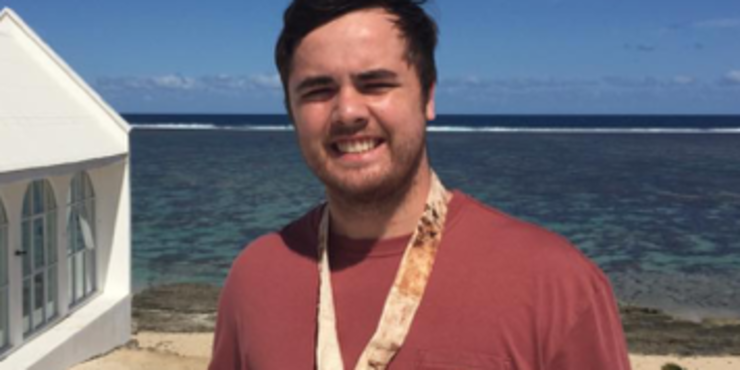 The Bryan College Station Convention and Visitors Bureau is proud to announce the arrival of four new interns for the summer. All four interns are students at Texas A&M University. Throughout the month of June we will be reviving "Meet the Intern" blog series. This week we have Ben Chittick, one of the summer interns for the Marketing and Communications department.
Where are you from?

I was born in San Diego, California, but I was raised in Austin, Texas. Even though the weather in California is amazing, I have come to love Texas.
What is your favorite thing about Bryan College Station?

My favorite thing about Bryan College Station is the people. Being that this is a college town, there are people from all over with all different backgrounds. I really like the diversity here. Additionally, there is always something going on in College Station. There is never a dull moment with all of the sporting events, campus functions, and hangout locations here.
What do you plan to do after you graduate?

I plan on staying around Bryan College Station an extra 18 months to complete my Master of Science in Marketing degree at Mays Business School. Ultimately, I would like to settle down in Texas or Colorado.
What do you do at the CVB?

I assist with raising awareness of tourism opportunities in BCS under the Marketing and Communications department at the Bryan College Station Convention and Visitors Bureau. I am excited for this opportunity to gain real world marketing experience.
What is your favorite sport to play or watch?

I played a bit of soccer as a kid and I was lucky enough to play out in California my first year of college. So I am going to have to go with soccer. The Euros, Olympics, and Copa America are coming up this year so there will be a lot of soccer on TV. I look forward to watching the games coming up.
What is your favorite musician or artist?

I am going through an Alabama Shakes phase right now. I like a lot of music and I have seen everyone from Drake to Stevie Wonder to Paul McCartney. I like pretty much anything except for Nickelback.
What's your favorite food?

In high school we used to eat off campus at least 3 times a week at Chipotle, then go to soccer practice. It became a quasi-ritual and helped us get to the state championship my sophomore year, so I will forever be loyal to Chipotle.
What is your favorite holiday?

I like Christmas. It's a good time to see my family. I enjoy that time of year because I like the cold weather and the snow. The whole vibe around Christmas time is just pleasant. It's a very joyful time of the year.
What do you like to do in your time off?

I like to play soccer and keep up with professional teams. Fitness is important to me so I work out just about every day. I also like to hang out with friends whenever I can. I have a passion for music and I enjoy seeing concerts with friends.
If you could travel anywhere in the world, where would you go?

I would love to travel to Southeast Asia or South America. I plan on doing a bit of backpacking when I graduate. I feel like traveling abroad is one of the best learning experiences people can have. I strongly recommend traveling and pushing yourself out of your comfort zone whenever you can.
If you could have a superpower, what would it be?

I don't need a superpower. Just give me one of those pills from "Limitless" that increases your intelligence level and I will be good. But if I had to chose an actual superpower, I guess I would go with being able to fly. It would make the possibilities for traveling around the world endless.
What would your dream job be?

I would love to work for an event production company such as LiveNation. I just want to be involved in marketing within the music industry. My goal is to find something that is challenging, yet enjoyable.