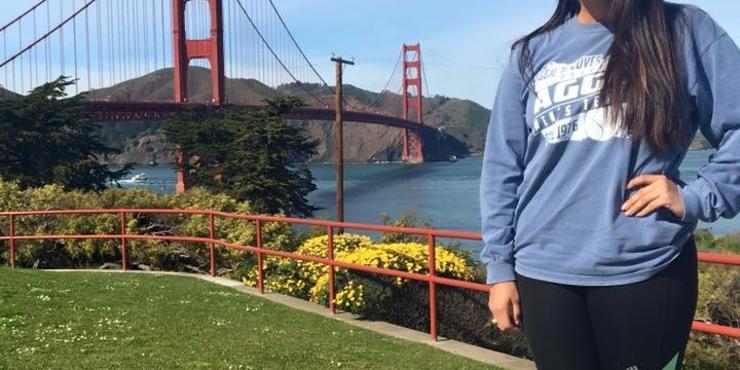 Our "Meet the Intern" series continues this week with, Bobbie Cantu! She is a Sports+Events intern here at the CVB. She come from the Rio Grande valley and loves her fighting Texas Aggies and her dog, Oliver. 
–Where are you from?
I am from Weslaco, TX, which is located in deep South Texas, known as the Rio Grande Valley.
-What are you studying?
Right now I am studying Sport Management with a minor in Business Administration. However, I started off as an Animal Science major hoping to become a veterinarian someday, but that quickly changed after my first semester. I realized where my true passion lies and that is with sports and hospitality.
-Why did you choose Texas A&M University?
I originally chose A&M because I wanted to become a veterinarian and of course they have one of the best schools in the country. I was also drawn in by all the traditions and constant kindness around the campus as well as their amazing sports teams!
-What do you do at the CVB?
I am currently an intern with Bryan College Station Sports + Events for this summer. I work hand-in-hand with the sports staff and assist with planning, preparing and participating in local sporting events for the summer. So far I've helped with setup for the Great American Shootout tournament by creating signage and operating ticket sales.   
-What is your favorite sport?
Without a doubt, tennis is my all-time favorite sport.  I have been playing since I was 4 years old along with coaching for the past 6 years. It holds a special place in my life because it's kind of a family sport in that my dad introduced me to it when I was little and we still go out and play together whenever I go back home and visit.
-Where would you like to live upon graduating?
I would ultimately like to stay in Texas close to home but I'm not opposed to moving if the opportunity presents itself. I am a huge family oriented person and couldn't bear to be so far away from them for so long.
-What would your dream job be?
My dream job would be to work for USTA (United States Tennis Association) in either their Texas office or headquarters in New York City. I particularly would want to work in either player development or as a director for youth tennis.
-What is your favorite thing about B/CS?
What I love most about Bryan College Station is how small and humble the town is; yet, at the same time it can feel so huge with everything it has to offer. The community is filled with an abundance of generosity and kindness and makes me feel like I'm at home even when I'm away from my family.
-What is your favorite restaurant in B/CS?
To be honest I don't really have one favorite place to eat, but if I had to choose a restaurant it would most likely be Chuy's. I am absolutely in love with their burritos and creamy jalapeno dip!
– What is a song you can't stop listening to now?
So I recently saw the band The 1975 in concert at the beginning of May and I have been listening to their song "The Sound" non-stop ever since! I honestly probably listen to it 4 times a day.