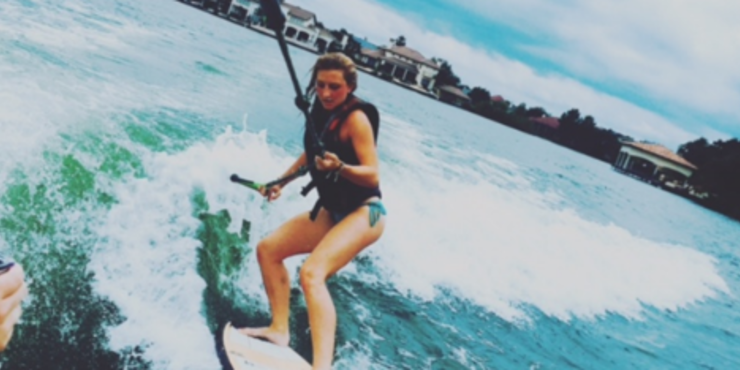 Meet one of our newest interns, Jennifer! Jennifer is the newest Sports + Events Intern and we can't wait for you to get to know her. 
Where are you from?
Houston, Texas.
What are you studying?
Sports Management.
Why did you choose Texas A&M University?
 I liked the idea of the people being so nice, and this seemed like an easy move from home. Also, I visited and had Antonio's pizza once and immediately fell in love.
What do you do at the CVB?
I am the Sports + Events intern, helping plan and execute events.
What is your favorite sport?
My favorite sport to watch is Aggie Football, of course (whoop!). My favorite sport to play is soccer.
If you could live anywhere in the world, where would it be?
If I could live anywhere in the world, I would want to live in Australia; they have great scenery and beaches, and the people are so real and fun to be around.
What is your favorite memory of living in the BCS area?
My favorite memory of living here in College Station has been Chilifest. I love concerts and exploring Snook the entire day was really fun.
If you had to eat at one restaurant in the BCS are for the rest of your life, which one would it be? What would you order?
I would eat at BJ's for the rest of my life, because they have everything I want. Anything off of their menu is amazing but if I absolutely had to choose, my top choice is always the deep dish cheese and pineapple pizza.
What song of the summer can you not stop listening to?
I get a lot of hate from my friends for this one, but I constantly listen to "Me Too" by Meghan Trainor. It has been on repeat in my car and my head.
What is your favorite thing to do on your days off?
I love being outside; day trips to the lake with jet skis, boats, floats, friends and family are always a go-to for me on my days off.
If you won the Powerball, what is the first thing you would buy?
I would buy a plane, so I could travel anywhere with anyone anytime.
What Disney Character do you most relate to and why?
Belle, because I would do anything for my family. Also, I have dated some beasts before.
Stay tuned for our next introduction to our Fall 2016 interns!