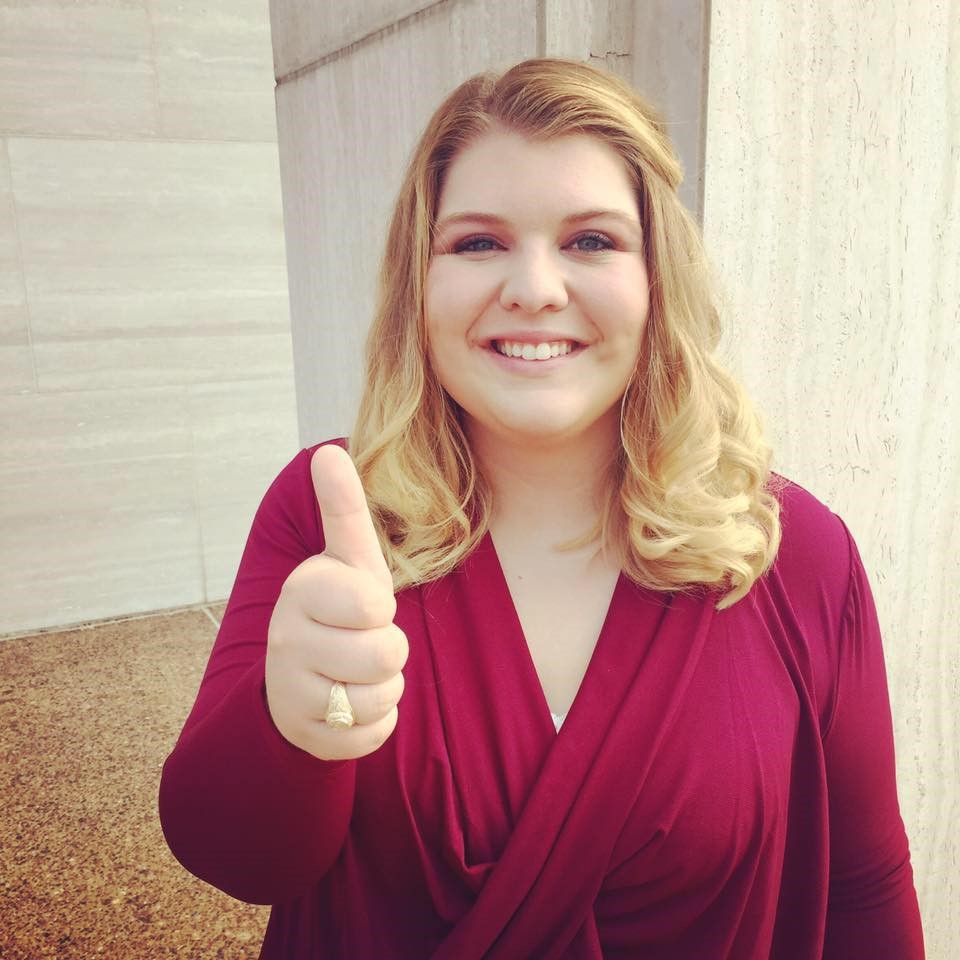 Madeleine Russell is our second Marketing and Communications Intern here at the BCSCVB. She's a senior, graduating in December at Texas A&M University and has been a great asset to the team. Keep reading to find out what super power she would have, what she would buy if she won the Powerball and who she would pick if she was The Bachelorette! 
1. Where are you from and what are you studying at Texas A&M University?
I was born and raised in Texarkana, TEXAS! It's actually half in Texas and half in Arkansas, so I always have to clarify that I am from the Texas side. #903. I am majoring in Communication, minoring in Tourism Management and obtaining a Professional Event Management Certificate at Texas A&M.
2. What is the most interesting thing about yourself?
I would have to say the most interesting thing about myself is that I collect spoons from around the world. My grandpa had his mid-life crisis when I was in elementary school and decided it would be a great idea to ride his Harley all over the United States. Every place he went, he would buy me a spoon and then the older I got I started collecting them too. My favorite one is from Ontario, Canada, because it has a huge painted maple leaf on the top. I have the entire collection displayed in my room back home!
3. If you could live any place in the world where would it be and why?
Definitely Orvieto, Italy. When I traveled to Italy my junior year in high school, we randomly decided to visit this hidden gem. Orvieto is a city on top of an inactive volcano in central Italy that overlooks the Italian countryside. It has the best food I've ever had in my life, the most kind and welcoming locals, and is honestly the most beautiful place I have ever seen.
4. What is the one memory you have of Texas A&M that makes you smile the most?
My sophomore year at TAMU I served as co-Pull Out Day Director with my good friend Albert Saenz (#shoutout). Pull Out Day is the official sophomore class event where an Aggie can "pull out" for the first time and "whoop"! This experience helped shape who I am today and taught me so many lessons on hard work and dedication. When I think back on the day the event was held, I can't help but smile. It was the perfect embodiment of the Aggie Spirit and I'm so lucky to have been able to hold a part in it.
5. What do you want to be when you grow up?
My long-term career dream is to be the Public Relations Director for Texas A&M. I grew up with both parents working in education, and I've seen first-hand the impact you can have on students' lives. With communication being my major, I think it would be a perfect fit. However, right outside of college I want to focus on event management and tourism.
6. If you had to pick a song that described you best, what song would it be?
"You've Got a Friend in Me," by Randy Newman. Shoutout to Claire W.
7. If you could only eat at one place in the Bryan College Station area, what restaurant would it be and what would you order?
Oh this is easy, Antonio's Pizza on Northgate! I would order the honey mustard chicken and chicken quesadilla pizza slices.
8. If you were chosen to be the newest Bachelorette and you had to choose between Jim Halpert from The Office or Jon Snow from Game of Thrones, who would you give your last rose to and why?
This is literally the hardest question I have ever had to answer in my life. Jon Snow is the most attractive human being that has ever graced this planet, but realistically he's not going to be around much because, ya know, King of the North and all. So I'd have to give my last rose to my bae Jim. If he looked at me the way he looked at Pam, my life would be complete.
9. If you could trade lives with one celebrity for a day, who would it be and what would you do?
I would trade lives with Ellen DeGeneres because HELLO SHE IS ELLEN!!!! I'd get to have my own TV show and invite any celebrity I wanted to be on it, plus everyone loves Ellen. The celebrities I would ask to be on the show would be Leonardo DiCaprio, Michelle Obama, and Ian Somerhalder. Also I'd want it to be on one of her 12 Days of Giveaways show so I could watch everyone freak out with all of their new gifts!
10. If you could have any superpower, what would it be and what would you do with it?
My superpower would be psychometry, which is the ability to learn about the past or future of an object by touching it. That way I could open up a really cool museum with a bunch of random artifacts and actually know the history of them all. Plus museums are cool and I'd make awesome collectors spoons to sell there.
11. You just won the Powerball! What is the first thing you going to buy with your $245 million?
A vacation home in Orvieto for my family!
12. What quote best describes how your week is going so far?
"I've never met a problem that cheese couldn't solve." – A Wise Guy
Last in our #MeetTheIntern series, we'll chat with our servicing intern, Tiffany! Stay tuned!