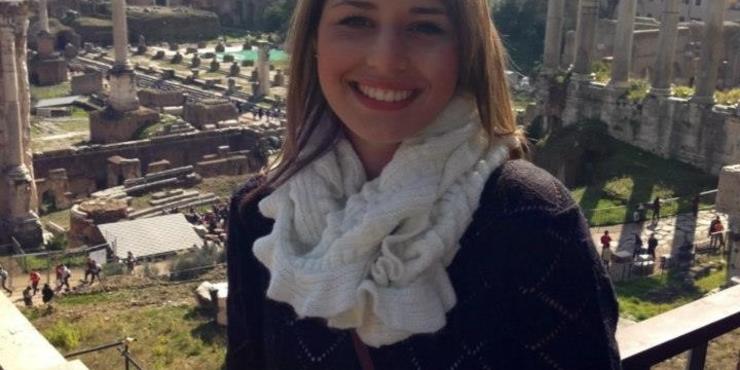 This weeks "Meet the Intern" features Tiffany Ross, the servicing/events intern here at the Convention and Visitors Bureau. Read below to learn about what past POTUS she would take to the beach with her, her best memory in Bryan College Station, and see the photo she would submit in her application to be the next Bachelorette! 
-Where were you born and where did you graduate high school?
I was born in Tobyhanna, Pennsylvania! I moved to Texas when I was four and have been here since. I graduated high school from Grapevine High School!
-If you were a contestant on "The Bachelor", what would your dress look like getting out of the limo and what would you say to the Bachelor to get him to remember you?
My dress would be a black long-sleeve short dress that is beaded and has a deep v in the front (yes, I've thought about this before). To get the Bachelor to remember me, I would probably tell him some smooth pick-up lines or just put a picture of me in his pocket because then he couldn't forget!
-What are you studying and why did you choose that field of study?
I am studying Communication with a minor in English. I chose to study Communication because it is such a broad major that can lead into many different fields post college.
-If you were about to karaoke, what song would you choose and who would you sing it with?
I would choose to sing "Man! I Feel Like a Woman," by Shania Twain. I would sing it with my sister, Kristie, because she is my best friend and sings just as badly as I do!
-What do you do at the CVB and what is your favorite thing you've done so far?
I am the servicing/events intern so I help with site visits for clients as well as help plan and execute conventions around the Bryan College Station area. My favorite thing that I have done so far is take a couple from Austin on a site visit around the BCS area. We got to take them to a bunch of cool places in the area that even I have never been to before so it was awesome getting to go as well.
-If you could stay a weekend at any beach in the world, what beach would you go to and which President of the United States (living or dead) would you take with you?
If I could stay a weekend at any beach in the world, I would choose to stay in Santorini, Greece. I would take John F. Kennedy.
-What's your best memory so far in BCS?
My first game in Kyle Field as a student. I will never forget how amazing it felt inside there and how pumped the crowd was to watch the Aggies win!
-If you had to get turned into an animal, what animal would you choose and why?
I would choose to be turned into a corgi (type of dog) because they are so cute and always happy.
-What's your favorite meal you've had in BCS and where was it?
The Lobster Mac-N-Cheese at Napa Flats. I indulge in it way too often but it is amazing!
-You just won $1,000,000. What's the first thing you buy?
An all-inclusive vacation to somewhere tropical.
-Why did you choose to attend Texas A&M?
Because of the tradition. When touring A&M, I could tell instantly that this was not a school I was just going to attend for four years, it is a family that will be a part of me forever.
-Would you rather spend a day in Tree Hill with Chad Michael Murray or be the Queen of the United Kingdom for a week?
I would MUCH rather spend a day in Tree Hill with Chad Michael Murray. Spending a day in Tree Hill with any of the characters on that show would be my ultimate day, I am obsessed with it!
That's a wrap of our interns for the Fall! Stay tuned for more fun posts as we finish out the semester & more interns in the Spring!