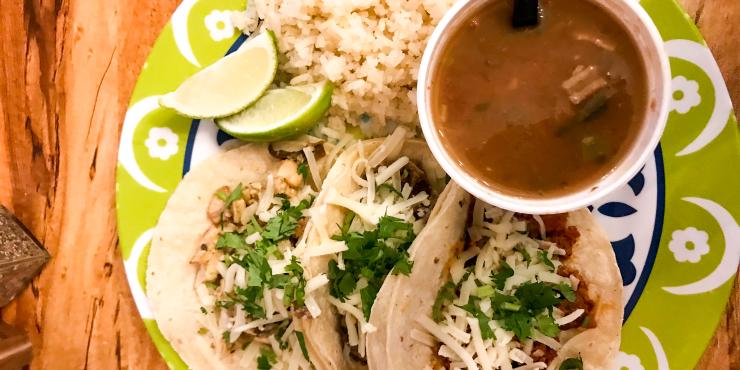 Whether it's your first time in Bryan College Station or you're a local looking for a new lunch spot, indulge in one of the many taco options that BCS has to offer. From authentic street tacos, to classic Texas breakfast tacos, and even some unique creations you never thought possible, Bryan College Station is home to one of the best taco scenes in the country. We put together this list of 6 local favorites to get you started on a mouth-watering adventure in BCS.
Open 24 hours a day, 6 days a week, Fuego is the ultimate late night destination for students here in BCS, but you can find us here just about any time of day. Unheard of topping pairings like mac 'n cheese, Cheetos, and smoked brisket or fried chicken, gravy, & corn all served on warm flour tortillas are what makes this spot an Aggieland favorite. Pair your choice of taco with a side of their chips & queso for the perfect melt-in-your-mouth meal. 
2. Mad Taco
Self-described as "the next evolution of taco," this trendy favorite serves up tasty toppings ranging from carne guisada to Mahi Mahi on their special homemade tamale bread tortillas! Their tacos are best enjoyed on the patio with a side of some of the best queso in Texas and a flight (yes, a flight!) of chef-inspired margaritas. 
This Aggie-owned-and-operated restaurant brings generations of family recipes from different regions in Mexico right here to College Station. Here you can choose from one of their menu options or create your own masterpiece with a build you own taco bar. Savor the flavors of the taco with a side of corn in a cup and refreshing aguas frescas! 
4. Taco Crave 
Taco Crave specializes in fulfilling your crave for authentic street tacos and serving different tasty options. Bite into one of their tacos and experience the flavors of a dish that you would find at somebody's home in Monterey. End your meal with a traditional Flan dessert to satisfy your sweet tooth. (Pro-Tip: Try the "Crave Chicken." Your taste buds will thank you.)
Enter a Shell gas station and prepare to be blown away by this small taco joint located inside. A combination of fresh ingredients and homemade tortillas will leave you wanting seconds, or thirds. A local favorite is the carne guisada, but if you're wanting to branch out try the spiced-up barbacoa- featured by Texas Monthly as one of the best tacos in Texas.
6. Jesse's Taqueria & Bakery
In Texas, breakfast tacos are king. Here in Bryan College Station, Jesse's breakfast tacos are king. Their tacos, made with recipes passed down through generations of the Ocana family, are a must-try on any trip to BCS.
Did we leave out your favorite taco spot in BCS? Let us know on social media @experiencebcs!