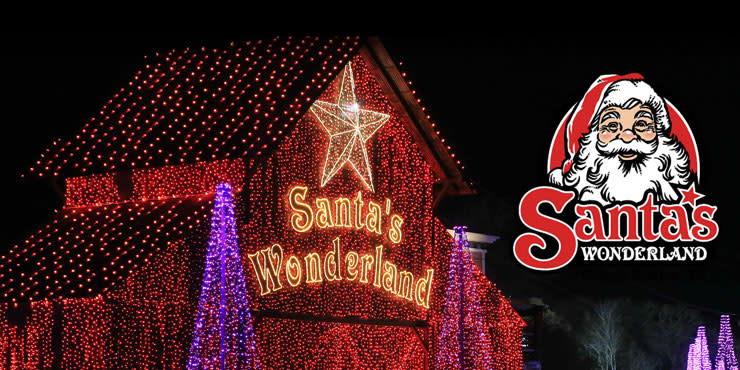 The best time of the year is upon us! That's right folks, Christmas is right around the corner, which means that the most magical place in all of Bryan College Station will be open! Santa's Wonderland is the largest Christmas attraction in the entire state of Texas that you can see on a hayride or by a fun carriage ride. This year, the season runs from November 9th - December 30th. Not only can you see the grandest display of lights, but you can also eat, drink, and listen to musical performances all while experiencing Texas snow!
Read below to find out some helpful tips and information:
What can I do at Santa's Wonderland?
You can visit Santa himself, revel in the Trail of Lights, race your friends down Frostbite's Mountain, play in real Texas snow at the playground, munch on Texas favorites, shop in over 50,000 sq foot of covered shopping, taste their unique selection of holiday wines, snuggle up by a campfire, enjoy live nightly entertainment and so much more!
Prepare for SNOW! (Dress appropriately for Texas weather and while one day might be hot and then next cold) you will surely shiver on Frostbite's Mountain
Make sure to bundle up for the REAL Texas Snow! Make your way to Frostbite's Mountain and enjoy furiously fun snow tubing! Frolic on over to Snow Play and build snowmen, make snow angels, throw snowballs, and make priceless memories! Don't forget! Snow can get clothing wet! Come prepared.

Don't miss these Entertainment Highlights
Christmas movies will be playing on a Texas-sized screen showing some of the funniest, most memorable holiday movies.

You can experience the best Texas Christmas music around at Santa's Wonderland each evening, where the most talented musicians in the Lone Star State perform your favorite sing-a-long Christmas tunes on their GIANT Texas stage. Dueling fiddles, big Texas bass, sizzling guitars, and amazing vocals make for an unforgettable evening to celebrate the season with friends and family!

Marshall Frostbite, the defender of the Spirit of Christmas, performs at the top of each hour! Stop by to say hello and snap a picture with him!

Meet Deputy Rowdy and be deputized to help defend and protect the Spirit of Christmas!
Consider a Carriage ride for the VIP treatment
To view the lights, consider a carriage ride for a VIP experience! The hayride is so much fun, but everyone should take the carriage ride at least once to make this holiday season even more magical.
Come Hungry and use the Park Map to plan your Meal and Treats
At Frostbite's Food Village, you can eat the "Biggest ½ Pound Burgers in the Lone Star State" (we told you we do things bigger here), or get lost in the amazing steamy Dutch Oven peach cobbler!  You'll find iconic Texas favorites including BBQ, Burritos, Homemade Pizza, Kettle corn, Funnel Cake, S'mores, and so much more!
Use the Crowd Forecaster to pick the Best Dates!
By using this super handy tool, Santa's Crowd Forecaster, you can see what dates are the best times to go!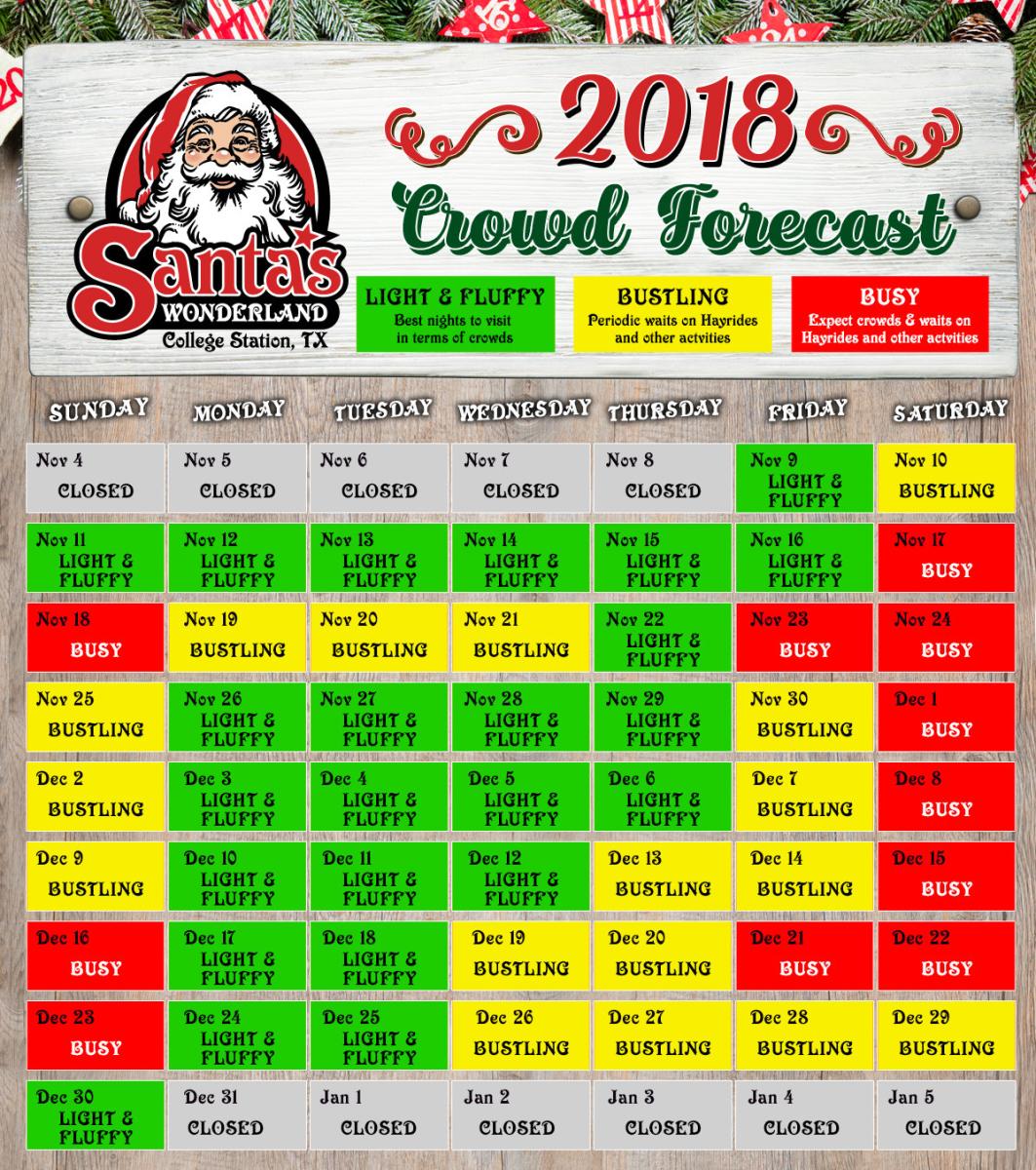 Buy Tickets Online to Save Time and Money
You can buy tickets online at www.santas-wonderland.com, and if you buy them online, you can save money over buying them at the front gates! You can save even more money by taking advantage of the Super Saver tickets, which offer great savings for select dates of the season!
Where can I park?
General parking is offsite and free, with free shuttles to bring you to the park and back. Comet lot is open each and every night for free offsite parking! Onsite VIP parking requires a reservation and permit prior to your arrival into the park, and must be reserved online.
Pro Tip: purchase your VIP parking permit while you are purchasing the Super Saver Hayride Tour to save time and money!
Plan to Stay Overnight!
This year, Santa's Wonderland has partnered with select local hotels that will shuttle guests from their hotel to the entrance of Santa's Wonderland and back to the hotel! More information and a list of the participating hotels can be found at https://www.santas-wonderland.com/lodging.
Make sure to plan your itinerary for the rest of the weekend by checking out Experience Bryan College Station and using the trip builder tool, while checking out some other local places to visit!
Some additional tips and reminders:
When you choose your day to attend, be sure to arrive early and purchase VIP parking if available. Expect and prepare for large crowds and wait times by using the Crowd Forecaster and keep in mind that some activities like Frostbites' Mountain & Snow Playground may experience longer wait times during peak days, and some activities may sell-out early such as Santa and Snow Globes.
We are so excited for everyone to come and experience Santa's Wonderland in Bryan College Station!