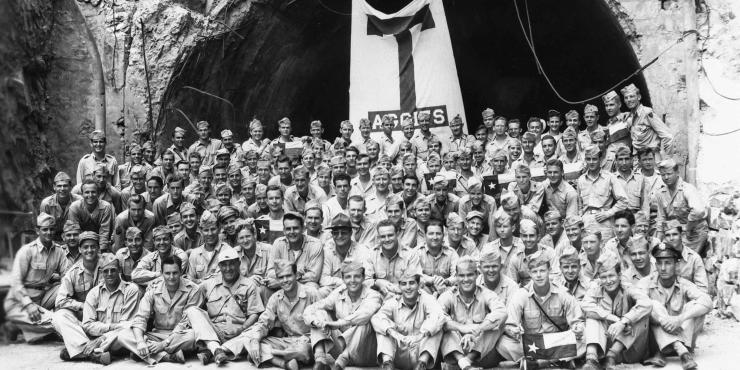 Courtesy of The Association of Former Students
"If there is an A&M man in one-hundred miles of you, you are expected to get together, eat a little, and live over the days you spent at the A&M College of Texas." – March 1923 Texas Aggie
On June 26, 1883, Aggies gathered together to relive their old college days, reminiscing on the victories and defeats both in the classroom and on the drill field. By April 21, 1903, this tradition had grown into a celebration, featuring games and banquets for Aggies to reflect on their lives here in Aggieland. After former students suggested alumni answer to a roll call, the tradition of Aggie Muster was born.
Aggie Muster brings together more Aggies than any other event – hard to believe after seeing Kyle Field on game days! Campus tours are offered to returning alumni, giving ol' Ags the chance to see the ever-changing campus. A Camaraderie Barbecue is held in Academic Plaza, just like the first Aggie Muster in 1883. The official Muster ceremony features a keynote speaker and the reading of poems, followed by a roll call for the absent. The roll call honors Aggies that have fallen since the last Muster was read. As the names are read, family members or friends are asked to respond "Here" while lighting a candle, showing that although those Aggies are not present in body, they will always remain with us through the Aggie Spirit.
Since those early days of 1883, the tradition of Muster has grown both in size and spirit. Aggie Muster is now celebrated in more than 400 places worldwide, with the largest ceremony being right here on Texas A&M University's campus.
The 2016 Aggie Muster keynote speaker is R.C. Slocum, former football coach of Texas A&M University. The Camaraderie Barbecue will be held in Kyle Field Plaza from 11:00 am to 2:00 pm. Tickets are $10 and can be purchased at the event or online at tx.ag/MusterBBQ. Tickets are not needed to attend, but are needed to eat! The Reflections Display will be from April 17th – April 21st in the Memorial Student Center Flag Room.
Wanting to observe Aggie Muster on April 21st, but don't know where to go? Here's a list of some of the ceremonies going on in the Brazos Valley: