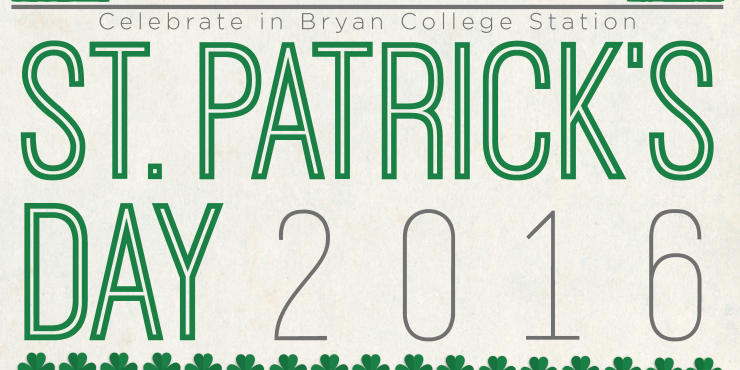 How does BCS celebrate good ol' St. Patty's Day? Here are some inside tips on all the celebrations and shenanigans happening around town. Leprechauns not included. Sláinte!
---
O'Bannon's Taphouse:
The party starts on Wednesday night with Boyett Street closing down to make room for all of the celebrations! There will be a DJ, food trucks, and GREEN BEER. O'Bannons will provide complimentary mimosas on Thursday morning (3/17) with a catered breakfast and lunch. Big Daddy Z's food truck will make an appearance on Thursday, serving an assortment of Irish dishes. Get ready to channel your inner Michael Flattery Lord of the Dance with the LIVE Irish music by The Blaggards, playing all day Thursday! There will also be prizes, relays, and T-shirts!
---
The Backyard on Northgate:
Located on Northgate next to The Dixie Chicken, The Backyard on Northgate will be featuring GREEN BEER, live music, a dunk booth and tons of specials. They'll be opening early at 2 p.m. on Thursday.
---
Hurricane Harry's:
How does Hurricane Harry's celebrate everyone's favorite Irish holiday? If you wear GREEN, you get in free until 10:00 p.m.! Their many specials include $2.50 wells, $3.50 Guinness, and $4 Irish car bombs all night on Thursday!
---
Murphy's Law:
 This little Irish pub in Downtown Bryan will be celebrating St. Patrick's Day the right way. Starting with a traditional Irish toast at 10 a.m., come spend your Thursday over at Murphy's! There will be specials on all Irish beers, as well as Jameson: $3 Guinness, Smithwick's, Harp, and Killian's, and $4 Jameson, Powers, and Tullamore Dew.
---
 Carney's Pub & Grill:
Carney's Pub on South College Avenue in Bryan is throwing a St. Patty's Day Bash all night long on Thursday! With an outdoor patio bar, live music by The Texas Twisters, and Irish pub food, Carney's is ready to ring in this year's green holiday! They'll also be serving GREEN BEER, Guinness, and much more! Make sure to wear green, win giveaways, and compete for door prizes!
---
Mad Hatters:
They may not be Irish, but they're going to party like they are! Mad Hatters will be opening up at 10 a.m. on Thursday with $3 Guinness Pints, Irish Car Bombs, and of course GREEN BEER!
*Remember to always drink responsibly.