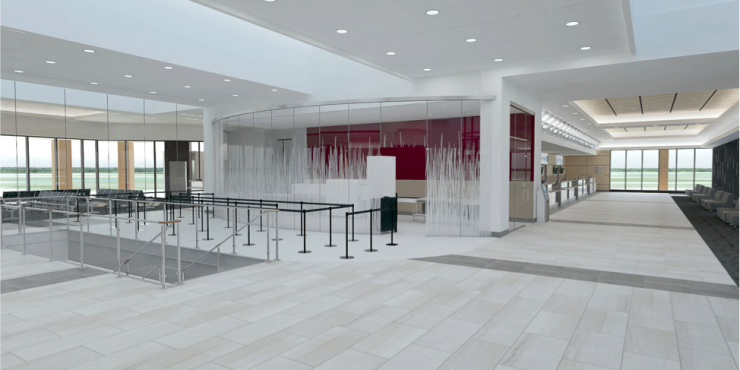 For the first blog in our brand new "Guest Blog Series," Jeffrey Shaw the Communications Manager at Easterwood Airport, tells us about the exciting changes happening at Easterwood! 
If you've resided in the Brazos Valley area for a few years, you have probably noticed the influx of families moving to the Bryan/College Station area.   Economic growth and expansion are on the rise and new communities are popping up left and right in areas that were once vacant.   According to the U.S. Census Bureau for 2016, College Station is the 18th fastest growing city in America. That is big news for our community, and with the increase comes growth for local businesses, School Districts, and many more. It's an exciting time for many and expansion is on the horizon for organizations everywhere in the area…including Easterwood Airport.
Easterwood Airport, a regional airport owned by Texas A&M and managed by Easterwood Airport Management, LLC since 2014 has been undergoing a few changes of its own. Some of those changes might be small, while others will make a significant impact on value and convenience to the public. The changes are necessary to keep up with the growth of the city, and while some may have noticed, a rebrand of the airport is on the way as well. With a new clean, modern, and minimalist Logo and Website (launched last month) that represents the heart of Aggieland and vision for growth, momentum has begun to shift focus on the future and the potential Easterwood has to connect every person in the world to the home of the 12th Man.
If you have never heard of Easterwood Airport or never flown out of it, you might be asking yourself, "What can Easterwood offer me?" Well, you've come to the right place. We've written a list of three reasons why flying Easterwood and what it as an airport can offer a busy person such as yourself. So without further ado, let's get to it.
A Gateway to the World in your own backyard.
Many may not be aware, but Easterwood Airport – using United and American Airlines – is just one stop away from more than 320 non-stop destinations. Planning a trip out of the country or state either for business or leisure? Need to fly to College Station for a football game? Easterwood has you covered. Using our new website, flyeasterwood.com you can view our arrival and departure times as well as links to United and American Airlines to book a flight and begin your next journey.
Travel Smart. Save Time and Money.
Easterwood prides itself on convenience and ease of use for the passenger.   Prices are kept low and more accessible vs. traveling and flying out of a commercial airport directly in surrounding cities. Here are some thoughts for you to consider before booking your next trip.
Parking – Our rates are lower than most commercial airports. Our daily prices start at $7 a day and weekly at $35.   We also offer six month and annual passes for those that travel more frequently. Not only do we offer low parking rates, but our parking area is monitored by security personnel 24 hours a day, seven days a week. Now that is a tough deal to beat.
Security Check – Unlike larger airports where you may find yourself standing in line for security for up to 45 minutes, at Easterwood, the average time to be checked in is ten minutes. That's nearly a 20%+ reduction rate in time spent at security so you can do more of what you love instead of waiting in long lines. In addition, wherever you're connecting flight is; you no longer have to go through another security checkpoint. It's a win/win for you.
The Cost – Using our cost calculator tool, you now have the ability to visually see what your savings really are by flying out of Easterwood vs. using a larger commercial entity. It's a unique and proprietary tool specifically designed to inform what your cost is flying out of your own backyard.
We Are People Connecting People.
Whether talking to a café representative, an airline or car rental representative, or even security we are here to serve you and your best interest. We want to connect with you on a personal level. We challenge ourselves every day to enhance your experience so that you can acquire what you need, to go where you need faster and with less effort.   Every interaction between you and airport representatives matters and we take it seriously.
College Station is growing and at a much faster pace than ever before. So, the next time you are planning your trip, whether out of the country or out of state, and you're looking for ways to cut down on cost and time, consider flying Easterwood. It may just be the convenience you've been looking for.
Written by: Jeffrey Shaw